About Salem Indiana

Salem is located in scenic Southern Indiana just 35 miles north of Louisville, Kentucky and less than 100 miles south of Indianapolis, Indiana. Salem is a great place to live and make a living. We have high achieving public schools, and a wide variety of community activities. Salem also has a strong and diverse economic base. If you're a visitor to Salem, we hope you will take note of our many unique and historic destinations. As a city, Salem has retained much of its small town flavor, a flavor that is enhanced by the city's tree-lined streets, stately old homes and a friendly atmosphere that has been nurtured and handed down through the generations.
Details
Indiana Department of Transportation contractor Milestone Contractors LP plans to extend the current closure of S.R. 56 in Salem next week to continue work on a $13.2 million roadway reconstruction project that began in March.
On or after Monday, June 20, the S.R. 56 closure will extend further west, to begin at the intersection of Cauble Street and end at S.R. 135. The current closure begins at Harrison Street. The new closure will allow crews to reconstruct the roadway and complete drainage work under the pavement.

Crews are also active at the S.R. 56 bridge over Brock Creek, which is being replaced as part of the reconstruction project, in addition to the intersection of S.R. 135. The intersection closed late last month for storm drain installation, and pavement and curb replacement. The official detour continues to follow I-65 at Scottsburg (Exit 29) to S.R. 250 at Uniontown (Exit 41). State Road 135 is currently expected to reopen at S.R. 56 in late June.
The contract was awarded to Milestone last December for a total of $13,292,500. Drivers are reminded to slow down, use extra caution, and drive distraction-free in and near construction zones. All work is weather-dependent and schedules are subject to change.
Additional information about the project can be found here.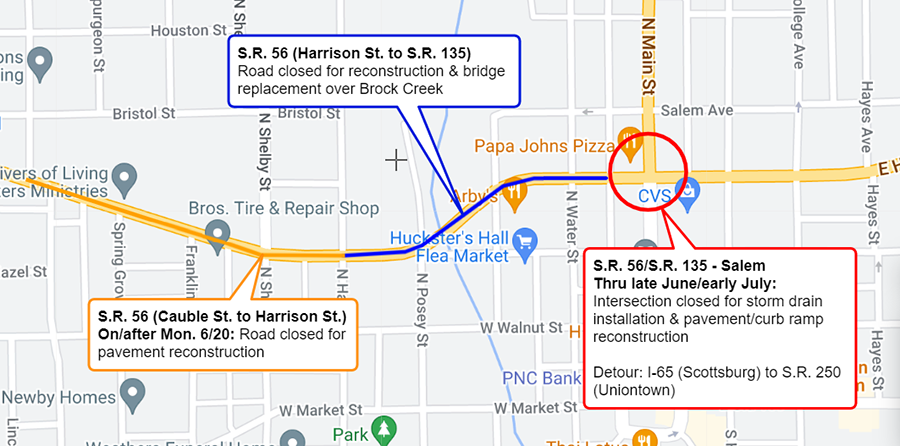 Details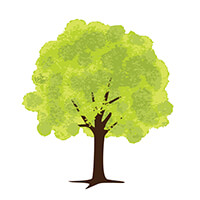 Lincoln, Neb. (May 6, 2022) Salem, Indiana, was named a 2021 Tree City USA® by the Arbor Day Foundation in honor of its commitment to effective urban forest management.
Salem achieved Tree City USA recognition by meeting the program's four requirements: a tree board or department, a tree care ordinance, an annual community forestry budget of at least $2 per capita and an Arbor Day observance and proclamation.
"Tree City USA communities see the impact an urban forest has in a conununity first hand," said Dan Lambe, president of the Arbor Day Foundation. "The trees being planted and cared for by Salem are ensuring that generations to come will enjoy to a better quality of life.
Additionally, participation in this program brings residents together and creates a sense of civic pride, whether it's through volunteer engagement or public education."
If ever there was a time for trees, now is that time. Communities worldwide are facing issues with air quality, water resources, personal health and well-being, energy use, and protection from extreme heat and flooding. The Arbor Day Foundation recently launched the Time for Trees initiative to address these issues, with unprecedented goals of planting 100 million trees in forests and communities and inspiring 5 million tree planters by 2022. With Tree City USA recognition, Salem has demonstrated a commitment to effective urban forest management and doing its part to help address these challenges for Salem residents now and in the future.