Details
The Indiana State Department of Health will be coming to the Washington County Fairgrounds next week on Tuesday September 21st, Wednesday September 22nd, and Thursday September 23rd from 9:00 AM until 6:00 PM. to do Covid 19 testing and or vaccinations for our community. They will offer the rapid testing as well as PCR, both of which will detect current infection. They will have the Pfizer vaccine which is available for those 12 years and older. They will also offer the Johnson & Johnson vaccine for those 18 years and older.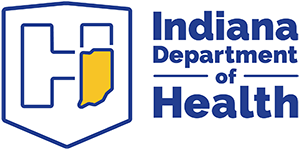 ---
Details
As we begin to head into cooler weather, we are starting to see more pedestrians out and about. Salem is indeed a beautiful and walkable city, particularly in the fall. As a reminder, whether you are a store owner or a citizen, please be mindful of our pedestrian walkways and avoid parking on sidewalks and walkways. It is also important to keep these pathways clear for handicap accessibility. As we prepare for fall, let's work together to keep our sidewalks, walkways, and pathways clear by only parking in designated parking areas.
Details
Indiana Department of Transportation contractor E&B Paving Inc. plans to close S.R. 60 at the Salem Bypass on Tuesday, July 6, to continue construction on a $2 million roundabout project that began earlier this year.
State Road 60 is expected to remain closed through late August with an official detour route of I-65 to S.R. 56. The detour for the Salem Bypass will continue to follow U.S. 150 to S.R. 56.
The project will upgrade the existing two-way stop intersection to a single-lane roundabout with 12-foot truck aprons, which aims to enhance safety by reducing the number and severity of crashes at this location. The contract also includes full-depth pavement replacement, guardrail work, and intersection lighting.
The contract was awarded last fall and the new intersection is now scheduled to open in late August following design changes to the splitter islands on each leg of the roundabout. Additional construction activity may take place later in the year with minimal interruptions to traffic.
Motorists are reminded to slow down, use extra caution, and drive distraction-free in and near work zones. All work is weather-dependent and schedules are subject to change. More project information can be found on the INDOT website.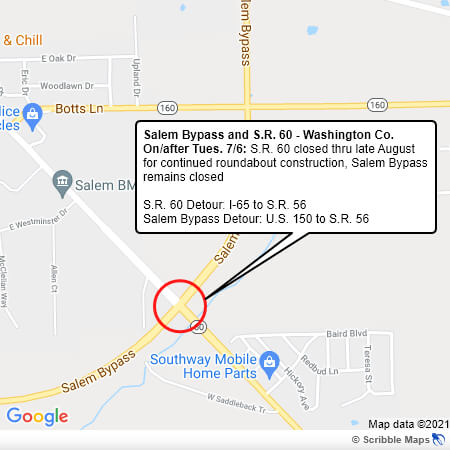 ---
Details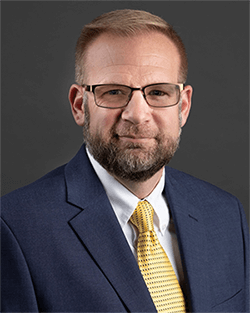 Mayor Justin Green recently announced $250,000 in COVID-19 relief has been awarded to local businesses in the City of Salem. A total of 51 local small businesses received these recovery grants with funds received from the Indiana Office of Community and Rural Affairs. COVID relief grants were awarded throughout the state to help sustain businesses through the height of the pandemic and put dollars back into the community during the last year.
"I'd like to thank every business that applied for these grants and to express my sincere gratitude to the local grant committee and the City Council for their work. We know this has been a difficult time for all, particularly our small business owners, and I certainly appreciate the patience and persistence our businesses have demonstrated. We were pleased to have the opportunity to offer this assistance," said Mayor Green.
The Indiana Office of Community and Rural Affairs awarded the City of Salem the grant money to be distributed locally. These federal grant dollars were underwritten by the U.S. Department of Housing and Urban Development.