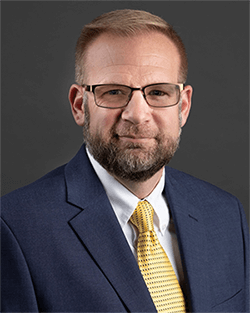 As we start a new year, I want to reflect on what the City of Salem has accomplished during the past year and preview the months ahead. First, however, I would like to thank our residents and business owners for their dedication to helping keep Salem safe during the pandemic. I would also like to thank you all for your concern for others, your commitment, and the patience you have shown during the last year.
It is true, we have all had a difficult year due to COVID-19. While some have lost loved ones to the virus, others have been sick. Our business owners are continuing to fight to rebound and though it has been tougher than ever, they are resilient. Whether we have struggled physically, mentally, or financially, we have all suffered during 2020, but the city of Salem did not fold. We have become stronger and are showing growth.
For me, the first year in Mayor's seat was not what I expected. Just a few short months into my first term, we faced what we hope is a once in a lifetime pandemic. We all adapted to scheduling changes, quarantine, and the cancellation of events. The city of Salem meetings became difficult and attendance was not allowed, but the business of the city continued. One of the hardest parts of dealing with Covid-19 for the City of Salem was the slow down to progress it created. While this slowdown was frustrating, we have worked hard to overcome it and are showing great progress in 2021.
In looking forward to the new year, we are excited about the growth and opportunities that are happening for our city.
One opportunity we are excited about is the new animal shelter building. The Washington County Humane Society is proud to have been awarded a grant for a new building and construction will start soon. This building will allow our workers and volunteers a larger workspace, giving them flexibility and better procedures in the care and treatment of the animals. I would like to thank the Washington County Humane Society for their hard work in securing this grant and all they do for our community.
Once again, Salem has been awarded with a Community Crossing Grant for improvement of local roads and bridges. Many of you have traveled West Market Street and South Shelby Street up to Crown Hill Cemetery and have seen the improvement the previous Community Crossing Grant has made. We were able to improve the drainage, the curb, the gutter, and the sidewalks on these streets. For 2021, we have been awarded $800,000 for our next project. We look forward to improving a section of North Shelby Street in the coming months.
I would like to thank Hoosier Uplands, a community partner, for their continued support of our public safety. Last year our fire department benefitted from a Hoosier Uplands grant. Even in this difficult year, they have provided a much-needed support to our police department. We will be upgrading our old, refurbished computers that struggle to keep up with our daily work. This new technology will help our officers stay safe and connected.
Finally, I would like to celebrate the fact that we are seeing an increase in building permits as well as requests for information regarding building. This information is encouraging to me as it shows how motivated our city is to have forward progress.
We hope you are also encouraged by the progress our city is making even during a pandemic. While we must continue to keep our guard up to help keep everyone safe, we wanted to share this positive reflection and our optimism for where we are headed. We are not stuck in neutral; we are not merely sitting idle. As I have said before, we must be proactive about maintaining and improving our infrastructure. We are moving ahead to provide enhancements to our city, and we are focused on keeping Salem a great place to call home. Thank you, again, for the opportunity to serve as your Mayor. I look forward to sharing more updates about the growth and activities Salem is experiencing in the months ahead.