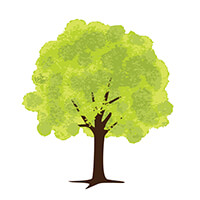 The City of Salem invites you to "park hop" throughout the months of June and July by getting your passport to local parks at the Salem Library. Passports are intended to encourage being outdoors while having fun tracking/documenting visits to our local area parks.
The passport contains locations of area parks and their amenities. The library will also have a "nature backpack" for you to check out before embarking on your "hop from park to park." Each backpack includes field guides, binoculars, activity sheets, and other items for exploring nature! Once you've completed the Park Hop, submit the last page of your passport to the library for a chance to win a prize sponsored by your local Community Health Action Team.
As part of this event, your local HHS extension educator will be providing 30-40 min. lessons from Purdue Extension's "Nature of Teaching" series. Selected lessons are designed to demonstrate the positive relationship between health and spending time in nature. The Nature of Teaching program includes formal standards-based curricula and information centered around getting youth outside. Lessons will include activities and worksheets for students grades K-12.
This series of lessons will take place at Riley's Place, located at DePauw Park, on Tuesdays at 10:30am, throughout June and July (no class June 22). Monthly themes are listed below:
June: "Take a Hike"
– Learn to explore nature and understand the health benefits of being outside.
July: "Benefits of Connecting to Nature"
– Learn about the relationship between outdoor experiences and mental health.
Additionally, take the Facebook Challenge found on PACT, Inc. Victim Services' Facebook page to be entered in a drawing for a $100 Walmart Gift Card. This challenge is sponsored by the Washington County Tobacco Prevention Coalition, the Washington County Prevent Child Abuse Council, and the Washington County Substance Abuse Council. The
Park Hop is being brought to you by your local Community Health Action Team in coordination with the City of Salem Parks and Recreation Department, Salem Library, PACT Victim Services, Washington County Prevent Child Abuse Council and Purdue Extension Washington County. Passports printed courtesy of CareSource.