Details
On December 14th, the City of Salem Board of Works announced the waiver for debit and credit card transaction fees will expire beginning January 1, 2020. During the height of the pandemic, the Board of Works temporarily waived the fees with the City of Salem covering the expense to the payment processor on behalf of customers.
"The Board of Works previously voted to suspend debit and credit card payment fees when residents were quarantined and unable to make payments in person. The City of Salem covered the costs of those fees on behalf of residents during that time," said Mayor Justin Green.
Effective January 1st, 2021, the transaction fee will resume for customers paying their bill with a debit or credit card. The charge is $2.95 per transaction and is remitted to the payment processor. As always, you can avoid paying the transaction fee by paying via check or cash. If you have any questions about the fee reinstatement or your bill, please contact the City of Salem Utilities office at (812) 883-3937.
Details
The City of Salem would like to remind residents not to flush masks, paper towels, disinfecting or flushable wipes of any type down the toilet. Flushing these items causes stress on the wastewater treatment facility. They want to keep our City safe and healthy, and one way we can ensure this happens is by keeping our wastewater plant running efficiently by remembering to only flush toilet paper.
Due to a continued increase in the volume of harmful items that can cause issues with the city's wastewater treatment operations, Mayor Justin Green recently made the following notice available from Wastewater Superintendent, Troy Watts:
"We are seeing an uptick of problems at the wastewater treatment plant due to discarded masks and wipes being flushed. Please remember sewer systems can get clogged when improper items are put down the drain or flushed. This can cause backups and overflow at our treatment facilities, which can create additional public health concerns. It is also advisable to refrain from flushing paper towels or wipes labeled as "flushable" or "septic-safe" as some wipes with this label can still cause issues with wastewater systems," said Superintendent Watts.
Mayor Green and Watts remind residents never to flush masks, even those made of paper, and that flushable wipes must have 3 main qualities:
1. They must break down quickly into small pieces,
2. They should not be buoyant or float,
3. They should only be made of ingredients that will easily and naturally degrade.
They ask for your help in keeping the system operating and functioning well, particularly during this time. Please be mindful that used masks, disinfecting and other wipes, including paper towels and baby wipes, should only be placed in the trash.
For updates and information from the City of Salem, please visit the website at www.cityofsalemin.com or follow the City and the Mayor on Facebook.
Details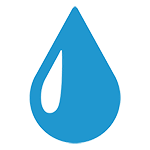 In April of 2020, The City of Salem Utilities began installing a Smart Water Meter system to all households and businesses throughout the entire service area. The initiative will bring increased efficiency to water customers, allowing them to monitor water usage more accurately. It will also allow the city to quickly respond to any infrastructure issues or possible leaks.
This program was started as part of the Salem's ongoing effort to provide excellent customer service and to stay ahead of inevitable issues that may result from aging infrastructure, as some meters are more than 25 years old. To date, nearly ¾ of the new meters have been installed.

The City of Salem Utilities recently informed customers of a possible extended billing cycle as the new meters are coming online. The cause of the extended cycle is not known, and they are working quickly to fix the issue. As a result, some customers will have an extra 20 days of billing on their current statement. This will balance out during the next billing cycle, reflecting a shortened cycle. If you have any questions about your bill or to make payment arrangements, please contact the City of Salem Utilities at 812-883-3937.
Details
Mayor Justin Green is encouraging Salem small business owners impacted by the novel coronavirus to apply for a Covid-19 relief grant. Eligible businesses must have been in operation prior to March 1, 2020. So far, there have been 20 grants awarded already in our City and funding is still available.
"We would certainly like to assist more of our hard-working business owners will these relief grants if they are needed and we want to make sure they know we are still taking applications and making awards," said Mayor Justin Green.
Grants of up to $5,000 may be received by eligible business owners in the City of Salem. This money may only be used for working capital expenses which include but are not limited to rent, utilities, advertising, marketing or inventory.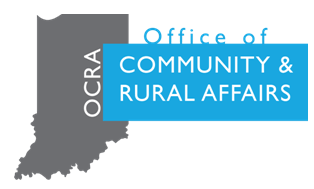 Covid-19 relief grants are available to businesses that are for profit, inside Salem city limits, considered low-to-moderate income threshold, and have 15 or fewer employees.
Click here to download an application or you may email This email address is being protected from spambots. You need JavaScript enabled to view it. to request an application.
The deadline to apply for a Covid-19 relief grant is December 1, 2020. The Indiana Office of Community and Rural Affairs has awarded the City of Salem the funding for these grants. These federal grant dollars are underwritten by The Office of Housing and Urban Development.
Details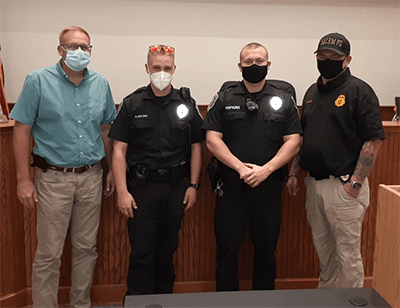 The City of Salem would like to welcome two of our newest police officers to the Department. As Mayor, I am deeply grateful to those who are willing to step up to serve and protect our great city. Please join me in welcoming Officers Dylan Moore and Devin Hopkins to the Salem Police Department!
Details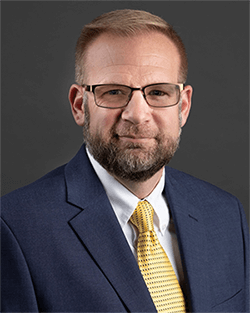 City of Salem Mayor, Justin Green, recently announced changes at Crown Hill Cemetery. These are the first major road and entry improvements to the property in several years.
"We are currently doing renovations that tie into the Community Crossings project you may have seen on North Shelby Street. In addition to the ongoing road and sidewalk improvements, the city is also improving the grounds at the Cemetery," said Mayor Justin Green.
Established in 1824 and located within the City of Salem, Crown Hill Cemetery is the largest cemetery in Washington County. Crown Hill presently occupies more than 90 acres, providing space for any potential future needs. Sadly, one required change to the property was a decision to remove the old house at the entrance gate. This structure had been a makeshift office and records room.
Mayor Green stated, "On inspection this year, we unfortunately uncovered several structural and electrical issues with the building, leading to an unsafe situation. Remodeling this building and bringing it up to ADA standards was not safe or feasible. We had to make the decision to remove the structure rather than renovate it for the safety of visitors and our employees."
The inspection found an electrical hazard within the attic and compromised knob and tube wiring. These two components made for a high risk of fire exposure. On further inspection, the sill plate along the foundation was found to be completely rotten and the exterior walls were no longer sound. Upon demolition, it was also discovered the northwest side of the building was not attached to the foundation.
Though sad to lose the house, the Mayor is excited to bring a replacement building to the location with further details coming soon.
"Crown Hill Cemetery is a wonderful addition to our city. It has been part of the Salem family for nearly 200 years. It is truly a beautiful place and as Mayor, I am looking forward to ensuring its beauty and sustainability for the next 200 years and beyond."
While the new structure is being built, visitors can use the temporary office in the maintenance barn to seek help or contact Cemetery Sexton, Dale Jonas, at (812) 883-2833 or via email at This email address is being protected from spambots. You need JavaScript enabled to view it.. The cemetery is open 7:00am-4:00pm, Monday through Friday. The friendly staff is always ready to help and respects your family's needs.